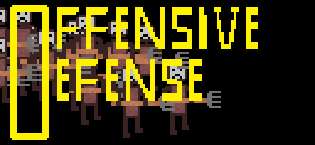 Offensive Defense
A downloadable game for Windows and Linux
Offensive Defense!
Offensive Defense is a real-time strategy defense game. You have a headquarter, but weird things are trying to invade it. You must stop them in order to survive. You get money from "killing" the enemys(Don't ask me how). With the money, you can buy upgrades, buildings and other special things that make your life easier. With the large amount of enemys, the fast gameplay, and the suprising textures, it's a new experience in the world of videogames.
This is my first commercial game, made for the Ludum Dare October Challenge 2014.
Why you should donate me
I have put a lot of effort and time in this game. I am 15 years old and I have no job, so I have not much money and I do not get much every month. With the money you buy my game, the following things happen:
You feel awesome because you have paid for my game!
I get some money, I feel awesome, because someone actually likes my game and therefore "buys" it!
With the money I get, I can do expenses to make me feel good. Like a new computer when my current one is totally annihilated, buy someone's other game to support the devs, or go watch a movie with some friends.
I made this all myself. I've spent a lot of effort into this. I don't know if it's good, I barely get feedback, I lack artist skills. I just hope people have fun playing it!
EDIT(1-1-2015): Everything is free now, because of Europe's new VAT system-thinngy. I need to set up some stuff, but due to the low sales(I've got 5 downloads since I uploaded this game, not to mention anyone bought it( :( )). So, you can tip me. A tip is free from tax, but I would love some support. Thank you.
So the game is now FREEEEEE!

EDIT(7-1-2015): License PUBLIC DOMAIN!
I would like to hear when you use something thought, I would love that!
And of course, a name hidden somewhere is always alright.
I actually realize now how hard it is to make a commercial game, and I think I'm not ready yet. Donations and feedback are always welcome of course. I just want people to have fun with my game, even thought it's far from perfect.
Oh, and if you decide to give me something, you don't only support me, but you also support itch.io(11% of your money goes to the awesome people of itch.io)!

Controls
F1: Hide UI
F2: Take screenshot(screenshot will be saved in the folder "Screenshots" in the working directory)
F3: Mute sound
F11: Fullscreen
P: Pause
Right click in "build mode": Exit build mode
Shift-right-click: Destroy building(no refunds)
Click on enemy: Hurt enemy
Click on message box: Close message box
Have fun!
Download
Click download now to get access to the following files:
OffenseDefense_src.zip
12 MB
Offensive Defense LNX MonoGame UNTESTED.zip
1 MB
Offensive Defense WIN MonoGame.zip
1 MB
Offensive Defense WIN XNA.zip
485 kB